White River Township contracts with Seals Ambulance for emergency response
March 27, 2018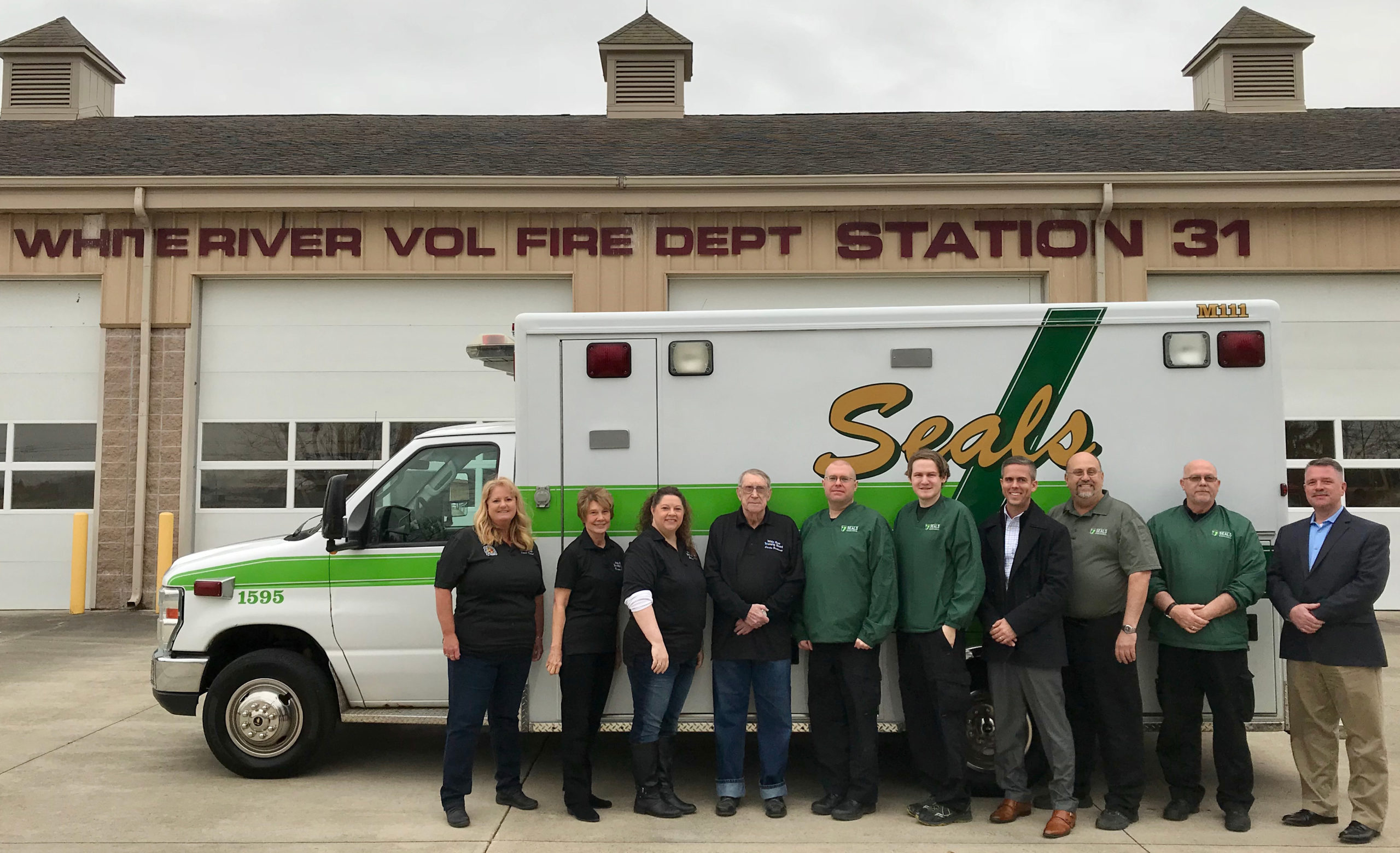 White River Township located in northern Hamilton County, Indiana, has contracted with Seals Ambulance to provide emergency ambulance services for all 9-1-1 calls within the township limits. The contract, which begins on April 1, will run through the end of 2018.
The contract was approved by the White River Township Board.
"Seals Ambulance will be a great partner in providing the critical service of high-quality emergency medical care to our residents and visitors," said White River Township Trustee Jamie Rulon. "I appreciate their partnership to ensure our ambulance service is uninterrupted, and I anticipate a smooth transition."
"Seals Ambulance has served communities and medical facilities in Hamilton County and surrounding counties for decades," said Seals Ambulance Vice President Tony Anteau. "We are excited to expand that service to the White River Township and work with the White River Township Volunteer Fire Department to protect and promote the health and safety of the community."
Seals Ambulance will provide one ambulance staffed with one paramedic and one EMT to respond to medical calls in the township. Seals Ambulance also operates more than 50 ambulances in nine counties in Central Indiana. When demand requires, Seals Ambulance vehicles are available to support the White River Township system from surrounding counties.
White River Township is a rural community with approximately 2,500 residents and is the oldest township in Hamilton County. White River Township offers many outdoor recreational activities including Koteewi Park, which is the largest outdoor park in Hamilton County boasting a canoeing, zip line, horseback riding, archery, sledding in the winter and trails; Lafayette Trace; and the White River.
Seal Ambulance will be available for questions at the Annual Dan's Fish Fry on April 7, 2018 from 4-7 p.m. at the White River Volunteer Fire Station.
About Seals Ambulance
Based in Indianapolis, Seals Ambulance provides emergency and nonemergency transport services to multiple hospital and facility contracts in Central Indiana, as well as emergency 911 service for various regions throughout Indiana. An extensive fleet allows Seals Ambulance to serve a wide area around-the-clock with prompt response time and quality service. Seals Ambulance is the contracted provider for several venues, including Ruoff Music Center, Indiana State Fairgrounds and Event Center and Indiana Downs Horse Track, and is the preferred provider for the Community Health Network. Seals Ambulance also provide emergency 9-1-1 response to the of Tipton County, Vernon Township and the City of Franklin.
Seals Ambulance is a regional branch of Priority Ambulance, a national family of companies.
Photo caption: Seals Ambulance leadership and crews meet with the White River Township Board in Hamilton County on March 27 prior to the service beginning 9-1-1 response to the community on April 1. Pictured from left to right are Jamie Rulon, White River Township trustee; Donna Gentry, White River Township board member; Suzanne Flanders, White River Township board member; Charlie Burkhardt, White River Township board member; Sean Hutto, Seals Ambulance paramedic; Josh Rafferty, Seals Ambulance EMT; James Simmons, director of business development; Michael O'brien, operations manager; Larry Christian, operations manager; and James White, vice president of operations.