Seals Ambulance to provide 911 emergency response for City of Greenwood
December 14, 2016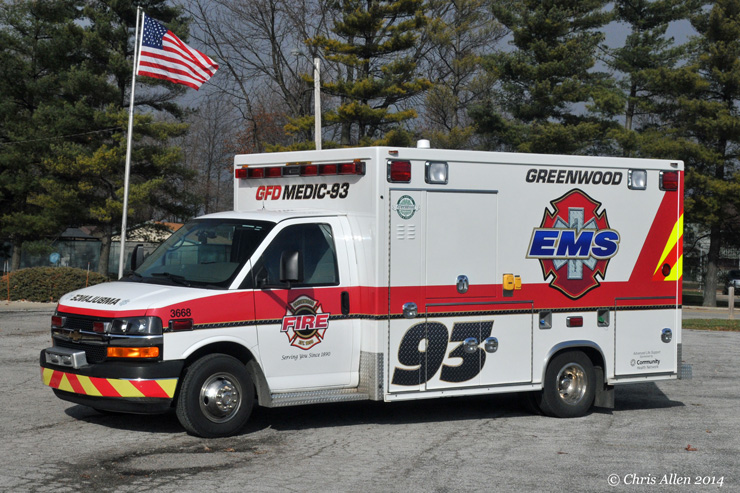 The City of Greenwood has contracted with Seals Ambulance to provide emergency ambulance service for all 9-1-1 calls within Greenwood's fire protection district's limits for the next four years, effective Dec. 14, 2016. The contract has been approved by the Board of Public Works & Safety, Greenwood Mayor Mark Myers and Greenwood Fire Chief Darin Hoggatt.
"Seals Ambulance is a local company that has served Central Indiana for more than 50 years," Hoggatt said. "The City of Greenwood and the Greenwood Fire Department intend to build a strong partnership with Seals Ambulance to provide efficient emergency response and excellent patient care to our citizens. We expect Seals will become a trusted partner for many years to come."
"Our leadership, EMTs and paramedics are locals who care about serving the community," Seals Ambulance President Randy Seals said. "We look forward to working with the city and the fire department to protect and promote everyone's health and safety. This is our home, and we consider it our highest priority to deliver the best care to Greenwood."
Seals Ambulance will lease three emergency vehicles owned by the City of Greenwood and branded with the Greenwood Fire Department logo. Seals Ambulance will staff the vehicles with EMTs and paramedics who will be stationed at the city's four fire stations to respond to calls.
In addition to the fire station ambulances, which will be staffed full-time, Seals Ambulance has a permanent station located within the city. Seals Ambulance also operates more than 50 ambulances in nine counties in Central Indiana. When demand requires additional response, Seals Ambulance vehicles are available for immediate support to the Greenwood 911 system from surrounding counties during peak daytime hours and periods of heavy call volume.
Current employees of the previous ambulance provider will be offered positions with Seals Ambulance.
About Seals Ambulance
Based in Indianapolis, Seals Ambulance provides emergency and nonemergency transport services to multiple hospital and facility contracts in Central Indiana, as well as emergency 911 service for various regions throughout Indiana. An extensive fleet allows Seals Ambulance to serve a wide area around-the-clock with prompt response time and quality service. Seals Ambulance is the contracted provider for several venues, including Klipsch Music Center and Indiana Downs Horse Track, and is the preferred provider for the Community Health Network. Seals Ambulance also provide emergency 9-1-1 response to the of Tipton County, Vernon Township and the City of Franklin.
Seals Ambulance is a regional branch of Priority Ambulance, a national ambulance network.
About Priority Ambulance
Based in Knoxville, Tenn., Priority Ambulance provides the highest level of clinical excellence in emergency and nonemergency medical care to the communities it serves. Throughout its national service area, more than 1,000 highly trained paramedics and EMTs staff a fleet of more than 250 state-of-the-art vehicles with the latest medical equipment and technology.
Priority Ambulance provides emergency and nonemergency medical transport options to communities in Arizona, Tennessee, Alabama, New York, Pennsylvania, Indiana and Georgia. Operating as Priority Ambulance, the company serves Knox, Loudon and Blount counties in East Tennessee. Priority Ambulance operates as Kunkel Ambulance in Upstate New York; Trans Am Ambulance in western New York and Northwestern Pennsylvania; Shoals Ambulance in Alabama; Seals Ambulance in Indiana; Central EMS in Georgia; and Maricopa Ambulance in Arizona.