Seals Ambulance presents hospital-branded ambulance to Hancock Health Board of Directors
July 12, 2008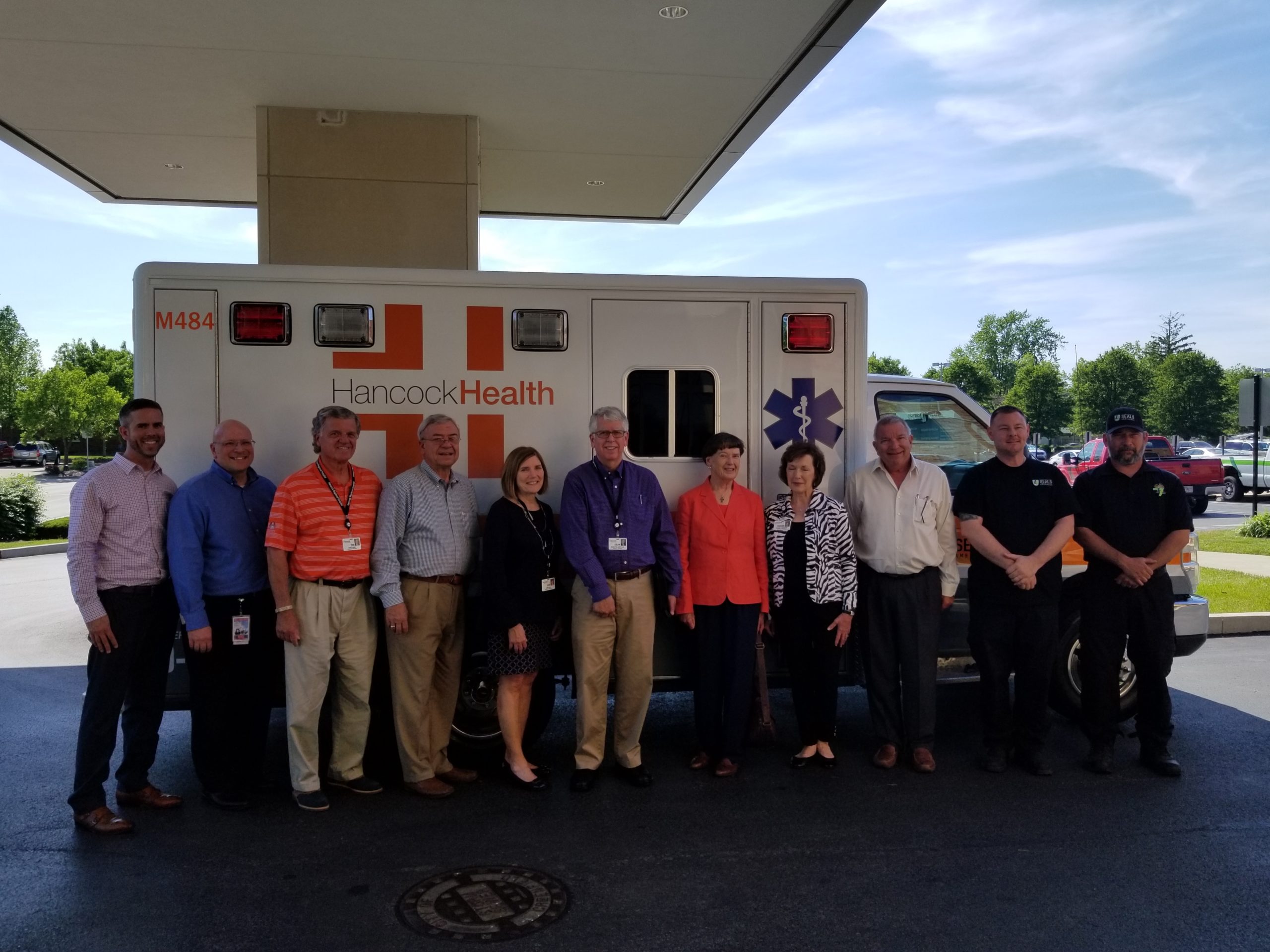 Seals Ambulance recently presented a new ambulance with the hospital logo and brand colors to the Hancock Health Board of Directors in June.
The ambulance will serve incoming and outgoing patients at Hancock Health facilities with medical transport services, as well as provide 9-1-1 service to the community of Greenfield. Seals Ambulance will own, staff and maintain the new ambulance dedicated within the Hancock County system and stationed at Hancock Regional Hospital.
"This new ambulance will further increase awareness of the great care and service that Hancock Regional Medical Center provides to the community," said Seals Ambulance Director of Marketing and Business Development James Simmons. "Hancock Health is one of our key partners, and collaborating on this new vehicle has given us an opportunity to strengthen that relationship and teamwork to even better serve Hancock County."
Seals Ambulance has served the Hancock Regional Medical Center for more than 10 years. Hancock Health system includes Hancock Regional Hospital and 20 other health care facilities.
"Integration of services has proven to be a successful tool in increasing the efficiency, effectiveness and customer satisfaction in patient care," said Hancock Regional Hospital Chief Nursing Officer Craig Felty. "Branding this ambulance as our own is one example of how we work together with our medical transport partners to best serve our patients and take ownership of care from when they enter the health care system to when they leave our facility."
Beginning in January 2018, the company also began providing backup support to Hancock County to respond to 9-1-1 emergency calls. The new Hancock -branded vehicle will be included in the 9-1-1 service as well.
The new Hancock Health ambulance is currently in service transporting patients in Hancock County.
About Seals Ambulance
Based in Indianapolis, Seals Ambulance provides emergency and nonemergency transport services to multiple hospital and facility contracts in Central Indiana, as well as emergency 911 service for various regions throughout Indiana. An extensive fleet allows Seals Ambulance to serve a wide area around-the-clock with prompt response time and quality service. Seals Ambulance is the contracted provider for several venues, including Ruoff Music Center, Indiana State Fairgrounds and Event Center and Indiana Downs Horse Track, and is the preferred provider for the Community Health Network. Seals Ambulance also provide emergency 9-1-1 response to the of Tipton County, Vernon Township and the City of Franklin.
Seals Ambulance is a regional branch of Priority Ambulance, a national family of companies.
Photo caption: Seals Ambulance presents the Hancock Health Board of Directors with a new branded ambulances to serve the facility's patients and the community through 9-1-1 response. From left to right are: Seals Ambulance Director of Marketing and Business Development James Simmons; Seals Ambulance Vice President Tony Anteau; Hancock Health Board members Timothy Clark, Roy Wilson, Ann Vail, Dean Felker, MD, Linda Zimmermann, PhD, Dianne Osborne and Jim Miller; Seals Ambulance employees Larry Dillard and Michael Swaffard.